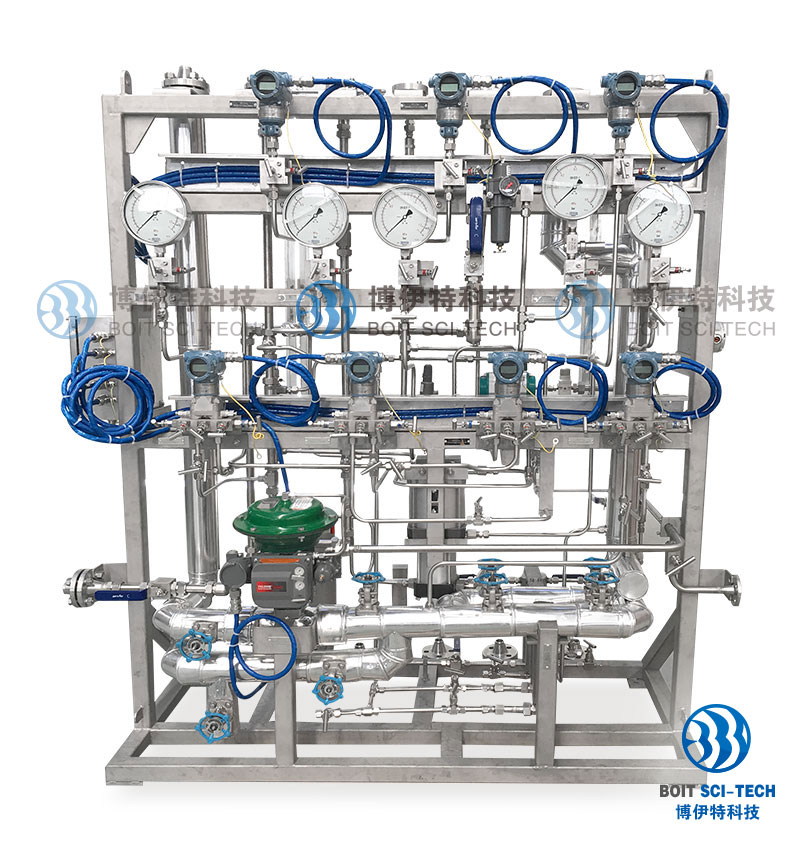 Dry running gas seals control panel is used for monitoring dry running gas seals in centrifugal compressor, and can be divided into three parts: 1. The main seal gas supply system; 2. Isolation seal gas supply system; and the first stage seal leakage system.
1.The main seal gas supply system
The control of dry running gas seals mainly controls the tiny gap between seal air flow through the seal face. This tiny gap depends on the maintenance of gas that does not contain particles larger than the size of the gap. The characteristic of the control panel is that the sealing gas is filtered to meet the requirements of high cleanliness, to prolong the life of the seal and to Prevent the accumulation of pollutants in the area after the static ring.
Each end of compressors are equipped with tandem dry running gas seals, to seal the pressure in compressor, although they are designed for the compressor exit pressure as a reference .The pressure of the tandem seal at each end is maintained at the pressure higher than the connection to the seal. This ensures a clean environment can be maintained in the sealing cavity .Only a small amount of leakage can be passed through the seal end face of each end.
2.Isolation seal gas supply system.
The isolation and sealing gas supply system forms a gas barrier between the main seal and the bearing chamber to prevent the bearing oil entering the seal. Filtering, monitoring, and adjusting equipment for nitrogen are all equipped on the control panel on this road.
3.The first stage seal leakage system.
In normal operation, a small amount of hydrogen from the first stage seal is discharged into the torch. Before the torch , the pressure of the leakage gas is monitored by a pressure gauge, and the pressure transmitter is monitored by remote transmission.
Leakage gas flow through measuring orifice plate to detect flow, and the flow is monitored by the flow transmitter in the field and remote transmission. Finally, the leakage gas is discharged into the torch through check valve.